My coworker, Martin Woodward has been very pleased with himself lately about his world's smallest TFS proxy. Never one to back down from a challenge, I present the smaller than the world's smallest TFS proxy. It's running on a Mac Mini, which Martin assures me is (just slightly) smaller than his proxy.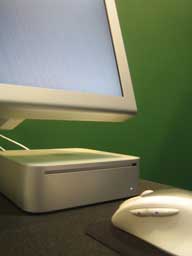 Inevitably, someone else like me with an overblown competitive streak will come along and build a still smaller TFS proxy. Being as I'm a jerk, I've decided to hit a point that nobody else will match: this is the first TFS proxy server to run on a Mac.
When I say "run on a Mac", I don't mean that I've got a VM running Windows and Microsoft's TFS proxy server. That's too easy – we've got a pint-sized TFS proxy actually running in MacOS X, thanks to Teamprise's new Java SDK for Team Foundation Server.
Fortunately, writing against the Teamprise SDK is easy. I didn't keep strict track, but I think that writing this little proxy server took about 10 hours, which probably broke down like:
4 hours: figuring out the Jetty servlet framework (for hosting the proxy)
2 hours: figuring out the hsqldb database framework (for caching)
1 hour: lost to cigarette breaks
2 hours: various other slacking
1 hour: getting the files out of Team Foundation Server through our SDK
As you can see, our new SDK will let you very quickly one-up your coworkers. Isn't that really what software's all about?
If you're at TechEd, and want to see the (new) world's smallest TFS proxy, or the world's first TFS proxy on a Mac, swing by and say hi. Teamprise is at booth 1333.